Archive
2016
Robots and New Media Aesthetics
Thursday October 27, 2016, 14:15-17, in room 15A.1.13.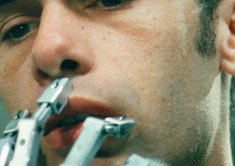 Robots and other artificial entities are frequently included in the realm of new media arts and popular culture, where they provide platforms for exploring relations between human beings and technological objects. This ROCA seminar will offer insights into three aesthetic approaches to robots in new media context: The keynote presentation by Edward Scheer focuses on vibrant materialism in new media dramaturgy, followed by Gunhild Borggreen discussing human-robot interaction in the context of haptic visuality, while Stina Hasse Jørgensen will discuss the vocaloid Hatsune Miku's popularity in relation to the commodity aesthetic of the cute.
THE GOOD, THE BAD, AND THE ROBOTS. Blurring the line between the living and technology
Friday, March 18, 16-17:30 at DesignLab, IT University of Copenhagen
Video recordings of the three presentations and discussion are now available at ITU channel: https://video.itu.dk
Anders Høeg Nissen (Journalist and host of Harddisken, DR)
Ken Rinaldo (Artist/inventor). Watch video
Thomas Pederson (Associate Professor at IT University of Copenhagen). Watch video
Gunhild Borggreen (Associate Professor at Department of Arts and Cultural Studies, KU). Watch video
Panel Discussion. Watch video
ROCA seminar: Bodies in Posthuman Perspective
Franziska Bork-Petersen, Post.doc at IKK: "Man-Machine - In pursuit of bodily difference"
Helene von Ahnen Haugaard, Cand.Mag in Visual Culture: "Resisting the Posthuman: Creating the Robot Body in Our Image"
Wednesday, March 9, 2016, at 10:00-12:00
Room 16.3.07 (the new KUA part, stair 16, 3rd floor, at the end of the corridor)
2015
Robots and Performance: Public seminar on art and human-robot interaction.
Supported generously by TRANSOR network, ROCA organised a public seminar on Saturdya October 10, in the afternoon. Three presentations focused on robotics and posthumanism in various cultural contexts within film, performance and visual art, and generated a discussion about cultural and aesthetic dimensions of human-robot interaction, including representation, design and ethics, as well as the performance of gender, and the practice of amateurism. Read more about the event here. 
Simon Penny Guest Lecture
Thanks to the support of TRANSOR network, we were happy to invite artist and roboticist Simon Penny to give a lecture at University of Copenhagen on March 26, from 14-16. About 20 people participated, and enjoyed a, informal talk afterwards over a drink. Read more about Simon Penny's talk.
Next Animals exhibition
Ian Ingram exhibited the work he made during his Artist in Residency from November 11 2014 to January 31, 2015. The exhibition took place at Nikolaj Kunsthal from January 8 to January 15, 2015, and Ian gave an Artist Talk on the opening night. Read more about the exhibtion and download the catalogue as PDF file.
2014
Art and Robots Workshop
A two-day workshop with the artist Ian Ingram in which Ian taught researchers from ROCA and elsewhere about bacis principles of mechanism, and Arduino and Processing programming. Read more about the workshop.
Ian Ingram Artist Talk: Sexbots for woodpeckers - and other machines that communicate with animals, November 22, 2014
The Los-Angeles based roboticist and artist Ian Ingram is staying on a 10 weeks Artist-in-Residency sponsored by CPH AIR (Copenhagen Artist in Residency) and Danish Arts Foundation. In the initial Artist Talk, Ian presented some of his earlier art works in images and on video, and discussed issues with the audiences about future possibilities in the Danish environments, ethical issues, and many other things. Read more about the Artist Talk.
ROCA at CHP:DOX, November 15, 2014
ROCA was involved in a panel discussion at CPH:DOX this year, in which the film festival screened two documentary films Autonomous and Fixed, both dealing with robots, prothsetics and post-human issues. Thanks to Stina's contacts and organisation, Elizabeth and Gunhild appeared on stage along with Ian Ingram in a dicsussion with Henrik Schaerfe (-and his Geminoid robot), and journalist Niels Ebdrup. About 150 people attended the event in Cinemateket. Read more about ROCA at CPH:DOX here.
Applications in autumn 2014
Our applications to Velux Foundation (Phase 2) was rejected, and so was the collective applications to YDUN (DFF). What we learn from our application processes is to be more focused and clear about what we mean by "robots"; to create a realistic research design in terms of production goals and collaborations; and to develop meaningful collaborations with roboticists and other types of experts outside our own field of art and culture.
We send an applications for FKK.
Several individual post-doc and Ph.D applications.
ROCA seminar: Prostetics in Art and Design, October 3, 2014
The seminar was a kick-off for a new project and a research network application. Morten Søndergaard, Associate Professor at Aalborg University, presented his reflections on the works by Stelarc based on his collabroations with the artist, and afterwards we had lively discussions on disability, prosthetics, ethics, and many other things. Read more the seminar. 
Robo Philosophy conference August 20-23, 2014
The PENSOR group at Aarhus University hosted a large conference on Robo Philosophy: Sociable Robots and the Future of Social Relations, August 20-23, 2014. Among the key note speakers were Hiroshi Ishiguro and Illah Nourbakhsh. Ragnild Lome, Anna Gulmann and Gunhild Borggreen from ROCA attended the conference and participated in the many enlightening discussions on ethics and responsability in human-robot relationships. Read more about the conference.
Applications in spring 2014
ROCA passed the Phase 1 of the Velux Foundation (Velux Fondens Humanvidenskabelige satsning), so we submitted the Full application for Velux on April 23. Results will be annonced in September.
Application for the FKK YDUN.
Several individual applications for FKK Post.doc and Mobilex.
Applicaiton to the Danish Art Council for support for Ian Ingram's visit for Artist in Residency in November.
Science in the Arts, April 9, 2014
Thanks to Elizabeth Jochum, ROCA was a co-organiser of an event at Medical Museion on April 9, 2014, in collaboration with Hotel Pro Forma, Medical Museion, and the Center for Healthy Aging (University of Copenhagen). Read more about the event.
Designing Robots - Designing Humans, March 25-27, 2014
A three-day public seminar 25-27 March on how robots will engage human beings as learners and cultural beings in the future. The seminars were organised by the Future Technologies group at Aarhus University in collaboration with ROCA and Asian Dynamics Initiative. Read more about the seminars.
Jennifer Parker-Starbuck, February 14, 2014
On February 14, 2014, Department of Arts and Cultural Studies had invited Dr. Jennifer Parker-Starbuck from University of Roehampton to give a lecture on Cyborg Theatre. Corporeal/Technological Intersections in Multimedia Performance. The lecture was well attended, and provided enlightening input as well as a great opportunity to establish ties with Dr. Parker-Starbuck and her field of research. Read pdf annoncement.
Ken Goldberg visit, February 7 and 10, 2014
It was a great honour and pleasure to have Ken Goldberg, Craigslist Distinguished Professor in New Media at University of California, Berkeley, visit Copenhagen and give a public lecture and a seminar with the ROCA group, February 7th and 10th, 2014. Read more about Ken Goldberg and his visit. 
2013
Applications in autumn 2013
Two collective research project proposals were submitted in 2013: a full application for FKK (Danish Art Council's Forskningsråd for Kultur og Kommunikation), and a Letter of Interest for the Velux Foundation (Velux Fondens Humanvidenskabelige Satsning).
A number of individual research project proposals were submitted in 2013 on Post. Doc. and Ph.D. levels.
One Artist in Residency application was submitted in 2013.
Film screening, autumn 2013 and spring 2014
Bojana and Stina organised a series of film screenings, in which selected films on robots were shown, followed by dicsussions. However, due to a low attendance rate, we have decided to take a break in the screening program, and perhaps resume at a later date. Read the screening program for spring 2014.
Arduino workshop, November 2013
On November 5, ROCA held a workshop in collaboration with the Practice-based Research Group at IKK, and the Intermedia Lab at ITU. Dzl from Illutron was our instructor, and all 20 participants managed to build and program a robot arm that could move pieces of wood in a refined pattern. Read more about the workshop.
Field Trip, June 2013
In June 2013, we went on a field trip to visit Labitat, a makerspace at H.C. Ørstedsvej in Copenhagen, and Illutron, a collaborative interactive art studio on a barge in Sydhavnen. Read more about the field trip.
The beginning
The ROCA group got together in the spring of 2013, and started out with a workshop in May concerning the overall concepts and ideas of the project, and what kind of research and other activities we want to pursue. During the first year, we set up this website, and launched a monthly newsletter as means of communication.
Japanese robots in videnskab.dk
ROCA Newsletter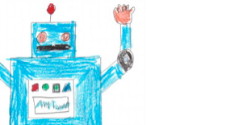 ROCA News No. 1, Sept 2013
ROCA News No. 2, Oct 2013
ROCA News No. 3, Nov/Dec 2013
KØS: Robotter i Japan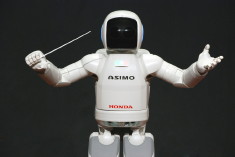 Lecture (in Danish) about robots in Japan by ROCA co-founder and manager Gunhild Borggreen in connection with the exhibition In your heart - in your city about Japanese contemporary art.
Japanese robots in Radio 24syv
On October 7, 2015, Gunhild Borggreen talks about the Japanese artist Kimura Masa and other aspects of robots in Japan in the culture programme AK 24syv in Radio 24syv on the occasion of the Robot and Performance seminar. Listen to the interview (in Danish) here. Forward to 41:50.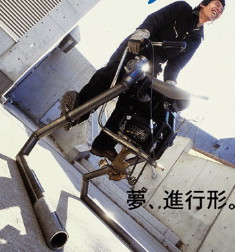 The robot as museum guide

ROCA member Stina Hasse is conducting research in collaboration with Oliver Alexander Tafdrup on how the robot NAO may act as a museum guide. They collaborate with Medical Museion. Have a look at their blog The Robot at The Museum
ROCA at CPH:DOX
ROCA members participated in a panel discussion related to the screening of two documentary films about robots at CPH:DOX on November 15, 2014. Read more.