ROCA is proud to present:

Saturday November 22, 2014,
at 3:00 – 5:00 PM
Location:
Auditorium 27.0.09, Building 27University of Copenhagen Amager,Njalsgade 136, 2300 Copenhagen S.
The Artist Talk is open for everyone, and will be followed by a reception.
Robotic squirrel tails that warn squirrels about danger, and robotic lizard-less legs that perform push-up gestures to declare a lizard territory - learn more about these and other robotic sculptures created by Los Angeles-based roboticist and artist, Ian Ingram, in his artist talk at University of Copenhagen.
Ian Ingram builds mechatronic and robotic systems that are inspired by animal morphology and behavior, from the shapes and movements of machines, and from our stories about animals. These systems are intended to cohabitate and interact with animals in the wild. Ingram's artistic work is often playful and humorous, but rooted in a serious reflection on the relationship between machines and living beings.

Ian Ingram has exhibited his work internationally, including at the Andy Warhol Museum in Pittsburgh, PA; the Museum of Modern Art of Toluca, Mexico; the Yada Gallery in Nagoya, Japan; Axiom Gallery in Boston. His sculptures are in the collections of the Carnegie Science Center and the Children's Museum of Pittsburgh.
The artist talk is organized by ROCA, a practice-based research project on robot culture and aesthetics at Department of Arts and Cultural Studies, University of Copenhagen. Ian Ingram is invited as Artist in Residency by ROCA and supported by CPH AIR (Copenhagen Artist in Residency) and the Danish Arts Counsel.

squirrel_235.jpg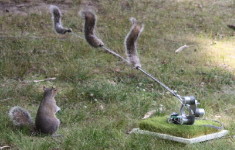 LizardlessLegs_235.jpg