Simon Penny
Professor of Arts and Engineering, University of California Irvine
Robotics and Art: Computationalism and Embodiment
Thursday March 26th, 2015
14:00-16:00, followed by a reception until 17:00
Room 27.0.09 in Building 27,University of Copenhagen Amager CampusNjalsgade, 2300 Copenhagen S
Simon Penny presents this lecture from the perspective of an artist/practitioner active in the field since the mid 1980s. His own engagement with the field began with desires to utilize electronics and sensors to endow installations and kinetic sculptures with awareness and responsiveness. These desires brought him into contact with the rapidly changing landscape of computing and robotics, on both a technological and theoretical level.
For Simon Penny, Robotic Art and related practices of interactive installation provided a context in which to imagine the deployment of real-time computational technologies and techniques for cultural purposes. In the process, this practice brought the embodied experientiality, so central to art, hard up against the tacit commitment to abstract disembodiment inherent in the computational technologies. In this talk Simon Penny will explore the relevance of post-cognitivist thought to robotics in general, and in particular, questions of materiality and embodiment with respect to robotic art practice – delving into philosophical, and aesthetic-theoretical issues as well as technical issues.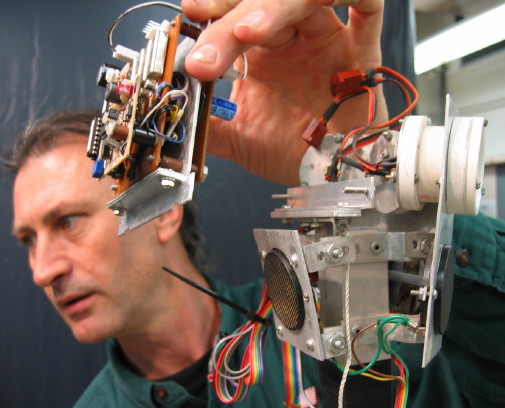 Simon Penny is an Australian practitioner in the fields of Digital Cultural Practices, Embodied Interaction and Interactive Art. Over the last twenty-five years, he has made interactive and robotic installations which address critical issues arising at the intersection of culture and technology. Penny was appointed Professor of Arts and Engineering at University of California Irvine in 2001. Read more at simonpenny.net.
The talk is organised by the Media Aesthetics research group and ROCA (Robot Culture and Aesthetics) at University of Copenhagen, and sponsored by the TRANSOR research network.