ROCA in collaboration with TRANSOR (Research Network for Transdisciplinary Studies in Social Robotics) present:

University of Copenhagen, Amager CampusRoom 27.0.09, Building 27Njalsgade 1362300 Copenhagen S
See map
Saturday October 10, 2015 from 14:00-17:00, followed by a reception till 18:00
About robots and performance:
The concept of performance covers many aspects that are related to robots. While robot engineers and scientists focus on the technical performance of robots through prototyping and lab testing, this seminar will address issues of performance within the field of the humanities. Three international scholars within the field of art and culture will explore the theme of robots and performance by looking at robots in theatrical or artistic settings, as well as the social interactions and communication performances that might be triggered by robotic behaviour. The presentations lead to discussions considering the importance of cultural and aesthetic dimensions of performance and artistic practices in human-robot interaction.
Sarah Bay-Cheng
Professor of Theater, Department of Theater and Dance, Bowdoin College:
MACHINE VISION: ROBOTS, CINEMA, AND POSTHUMAN PERFORMANCE
Sarah Bay-Cheng presents ideas of post humanism and robotics in performance across media; that is, looking at how cinema, television, and digital media configure robot performances in relation to the human. It is particularly interesting when this happens in cinematic contexts, where humans and robots achieve a more or less equitably representational status.
Read more about Sarah Bay-Cheng.
Elizabeth Jochum
Assistant Professor of Art and Technology, Department of Communication and Psychology, Aalborg University:
ROBOT EMBODIMENT AND ART
Much contemporary robotics research focuses on the challenges of designing robots with physical bodies that share our environment. However robot artists have been designing robots that share and interact with the human world for decades. This talk explores the role of embodiment in robotic art, and how these works anticipate and in some case even articulate important aspects of social human-robot interaction.
Read more about Elizabeth Jochum.
Gunhild Borggreen
Associate Professor in Visual Culture, Department of Arts and Cultural Studies, University of Copenhagen:
WALKING MACHINES: ROBOT ART AND PERFORMANCE IN JAPAN
Contemporary Japanese artists in Japan challenge the mainstream notion of robot design and employment through performative strategies of D.I.Y concepts and amateurism. Gunhild Borggreen will discuss works by the artist Kimura Masa and focus on the act of walking, both as a challenge to robot technology, and as a social and performative act of "place-making".
Read more about Gunhild Borggreen.
Download a PDF poster on the event here.
Video documentation

There will be a robot present at the seminar, and the robot will be videorecording the event. Documentation seen from the robot's eye will later be available on the ROCA website.
hvid 235.jpg

hvid 235.jpg

hvid smal 235.jpg

ex-machina-2_235.jpg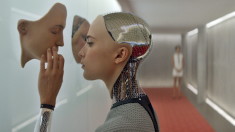 Meiwa denki_235.jpg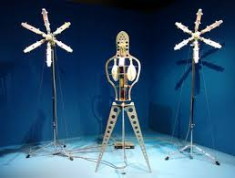 f2_s_235.jpg