December 11, 2014 and January 8, 2015, both days from 9:00 to 17:00.
Room 21.1.47 (Dec 11) or room 21.0.49 (Jan 8), Building 21, University of CopenhagenKaren Blixens Vej 1, 2300 Copenhagen S
The registration is over, but you are welcome to drop by in room 21.0.49 on January 8 and see what goes on in the workshop.
The artist and roboticist Ian Ingram builds site-specific robot sculptures with the aim of communing and communicating with non-human animals. Ian applies mechanical and electronic components in his aesthetic practice of creating the robot sculpture, and his interest focuses on gesture, reaction and a sense of "agency". By having non-living robotic objects partake in a communication situation, Ian creates a space of mixed perception between animals and human observers, challenging human supremacy in understanding the world, our narrative-based way of organizing meaning, and exploring the primacy of body, senses, and instinct in interrogating reality.
During his Copenhagen Artist in Residency (Cph AIR) from Nov 16, 2014, to January 31, 2015, Ian will collaborate with the research group ROCA (Robot Culture and Aesthetics) at University of Copenhagen. During his stay, Ian will offer a Workshop in two parts for the members of ROCA research group and others in their robot network.
Workshop Part I (December 11, 2014, 9:00-17:00, room 21.1.47)
focused on body and gesture. We will use drinking straws, cardboard boxes, rubber bands etc. to build simple mechanisms, and thereafter connect the mechanism to a motor which is controlled via Arduino, Processing, and pre-scripted code. Gestures will be recorded through a computer mouse, and played through the object as a means of adding a semi-autonomous element.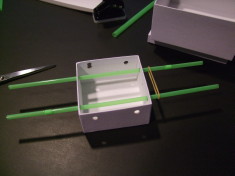 Workshop Part II (January 8, 2015, 9:00-17:00, room 21.0.49)
will focus on perception and behavior. Workshop II includes coding and vision technologies that uses the build-in webcam of the computer to provide the robotic objects from Workshop Part I a simple way for them to perceive the world around them.
You can no longer sign up for the workshop, but you are welcome to drop by and see what goes on.
Lunch is not included in the fee, so you can either bring your own lunch, or visit the cantina at the University of Copenhagen Amager campus. Tea and coffee will be served during the workshop.
You need to bring a laptop computer for the workshop. When you have signed up, you will be given information about a open-source programme that you can downloade in advance in order to save time during the workshop.
The workshops will be videofilmed for internal research purpose.
The aim of the workshop are:
for workshop participants to get insights into Ian's artistic process, while the D.I.Y approach at the same time offers insights in activist potentials in "mastering" technology through simple methods.
for researchers of ROCA and others to get a practice-based knowledge of artistic perspectives on robotics.
for artists to test their own aesthetic approach in the creation of a semi-autonomous robotic object.
for Ian through the workshops to establish contacts to Danish artists, curators, and researchers with the aim of future collaborations and exhibition activities.

LizardlessLegs_235.jpg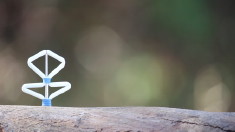 Russian constructivism_235.jpg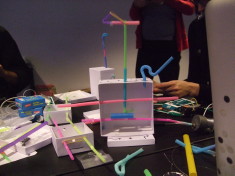 workshopview2_235.jpg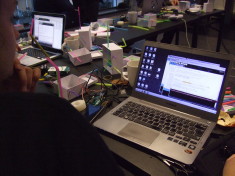 focus1_235.jpg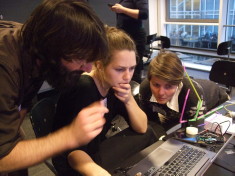 workshop view1_235.jpg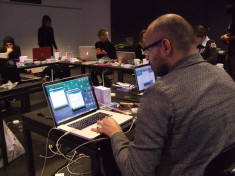 squirrel_235.jpg