Arduino workshop: Build your own robot
The Practice-based Research group at IKK and the Robot Culture and Aesthetics group worked together with the IT University in inviting Illutron, a collaborative interactive art studio, to conduct a one-day workshop on how to build a robot from arduino and motor components. The workshop was organized and executed by Dzl (Nikolaj Møbius), technical inventor at Illutron, with assistance by Ole Kristensen, coordinator at Intermedia Lab.
The workshop took place at InterMedia Lab at IT Universitet, Rued Langgaards Vej 7, 2300 Copenhagen S (ground floor)
The workshop was sponsored by the Practice-based Research Group at Department of Arts and Cultural Studies (University of Copenhagen), along with IT University, who provided coffee, croisants, and fruit for the breaks. In addition, participants paid 450 kr on their own for materials (arduino board, motor, various pieces of cut-out wood, etc.), which they could bring home afterwards.
Most participants brought their own computer and had installed the latest versions of Arduino and Processing before the workshops according to the instructions on these pages: http://arduino.cc/en/Main/Software and https://processing.org.download/.
Program
9:00 - 10:00 Introduction, context, expectations
10:00 - 12:00 Workshop part I
12:00-13:00 Lunch
13:00 - 15:00 Workshop part II
15:00 - 16:00 Reflection, discussion
Goals
The workshop was conceived with a number of purposes in mind:
- for the Practice-based Research group and the ROCA group to carry out robot building in practice, as well as reflecting on the process and experience. Therefore, we included discussion and reflection before and after the workshop as a way of framing the practice.
- for the same reasons, we documented the workshop by video recording the event. Photos and video recording by Gunhild Borggreen are reproduced on this page, as well as a separate report published in ROCA News No. 3 (Nov/Dec 2013). Video recording by Rebekka Anker-Møller exist as raw footage and is to be edited with the purpose of investigating the processes of handling and bodily engagement with tools and technology.
- to get a sense of DIY - how to handle small scale technology in ways that may challenge common understanding of technology as something exclusively for experts.
- for the Practice-based Research group and the ROCA group to see the ITU lab and try by experience how such a lab may work. How can an IKK Lab look like if we were to build one?
Actual events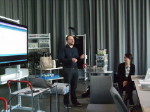 After an brief introduction by Gunhild about the workshop and the context, Dzl presented himself and his background. Dzl's introduction to arduino programs and principles was accompanied by projection on screen of websites and powerpoints.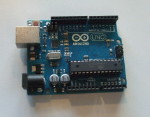 All participants received a pre-designed set of materials, which consisted of an arduino board, a motor, several elements to mount on the motor, as well as a set of cut-outs of wood that were to be assembled to form a robot arm as well as six pieces with hooks. While Dzl guided the group along, everyone assembled the robot arm and mounted it on the motor, which was connected to the arduino board.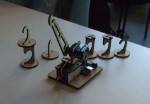 Wired to a computer, the motor and the robot arm could then be programmed to lift, sving, and lower the hooks in various patterns, allowing for a continuous moving of the hooks back and forth. This sounds simple, but the conceptualization of the program bits to make them correspond to the actual movement of the robot arm was a challenge for those how had not tried arduino programming before.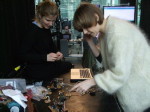 During the workshop, everyone had to use their hands to assemble and create the robot arm and hooks, as well as mounting and fastening the arduino board, connecting wires, and many other practical actions. This part became central to the atmosphere of workshop, because small groups formed around the tables or tools, in which participants helped and encouraged each other. Having only a few screw drivers, it became apparent how essential good (and plenty) tools are.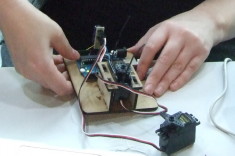 For many of us, who are not used to this kind of handicraft in our everyday work situation, it was a pleasurable experience. Other senses were brought into play, such as smell of melted glue or the smokey smell of the wood piece that were laser cut and therefore slightly burned at the edges.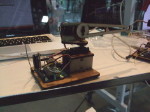 Embodiment and affect came to the fore once the robot arm was programmed to carry out its movements, and the hooks had to be placed the right place so the robot arm could catch them. This was a key moment where the human being would interact with the robot. It was interesting to see how certain emotions were projected on to the robot arm, such as pitty or encouragement if the robot hadn't got a proper grip of the hook and dropped it again, or excitement when the robot succeeded a complete round of movements.
Participants
Workshop Instructor: Dzl (Nikolaj Møbius), Illutron, with assistance by Ole Kristensen, Intermedia Lab
From ITU: Laura Beloff, Anne-Marie Skriver Hansen, Cameline Bolbrie, Catherine Zebblin, Hanne-Louise Johannesen, Phillip Prager
From IKK: Gunhild Borggreen, Mette Tranholm, Rikke Cortsen, Katrine Mosegaard, Bojana Romic, Rebekka Anker-Møller, Anna Gulmann
From Design School: Troels Degn Johansson, Tau Lenskjold, Joachim Halse, Flemming Tvede Hansen
From PENSOR: Marco Nørskov, Rikke Mayland Olsen
Time-lapse film
Time-lapse of the arduino workshop at Intermedia Lab, recorded and edited by Ole Kristensen: http://vimeo.com/81418406
Images
Photo documentation from the workshop by Gunhild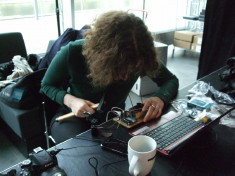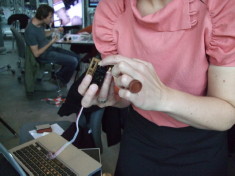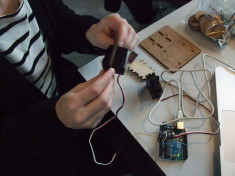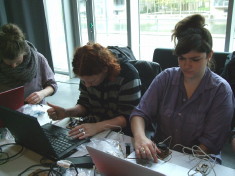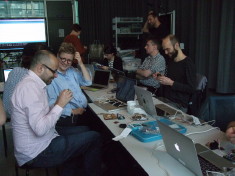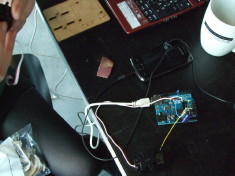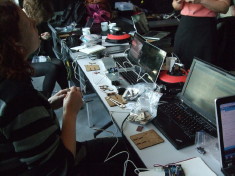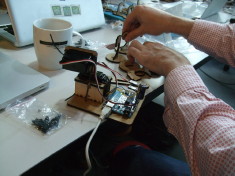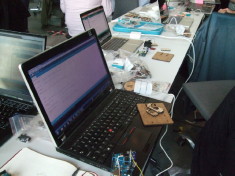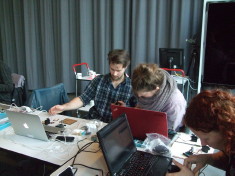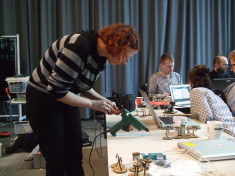 Photos from workshop